Mark McCloskey, the St. Louis lawyer who received national attention after he and his wife, Patricia, raised guns at Black Lives Matter protestors demonstrating outside their home, announced that he is running for US Senate in Missouri.
McCloskey broke the news Tuesday that he is running to fill the seat of retiring Sen. Roy Blunt, R-Mo., on Fox News's Tucker Carlson Tonight.
"When an angry mob marched to destroy my home and kill my family I took a stand to defend them," said McCloskey in his announcement video. "I will never back down."
The McCloskeys felt threatened after protestors stormed into their neighborhood after breaking down an iron gate and ignoring a "No Trespassing" sign last June. The protestors had reportedly yelled obscenities and threats at the couple who then came out of their home armed with an AR-15 and a handgun in "self-defense."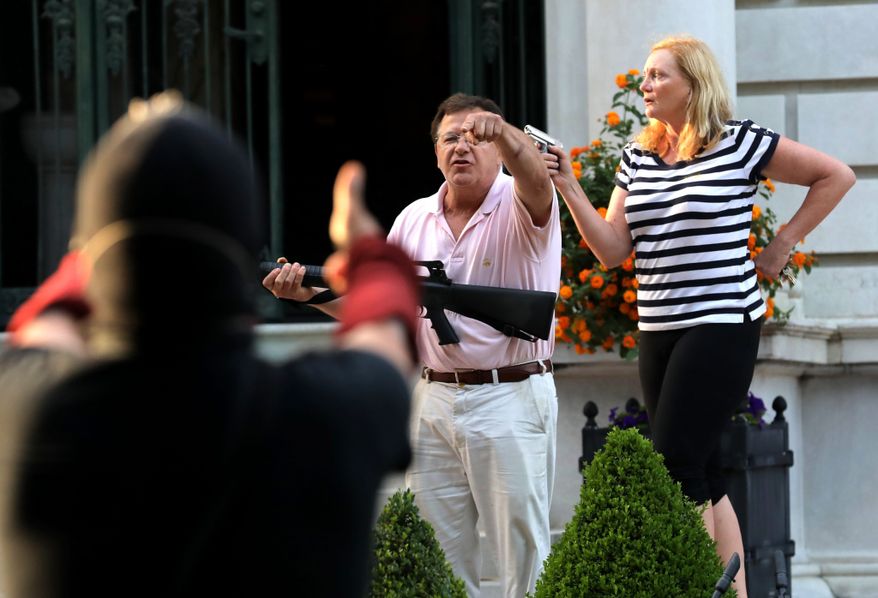 "God came knocking on my door last summer disguised as an angry mob, and it woke me up," McCloskey told Tucker Carlson. "People don't want any more posers going to D.C. All we hear is talk. Nothing ever changes. It seemed to me that people have to stand up."
St. Louis Circuit Attorney Kim Gardner, D-Mo., charged the McCloskeys with unlawful use of a weapon which prompted police to later confiscate their weapons. Former President Donald Trump said it was "disgraceful" that the McCloskeys faced charges. Gov. Mike Parson, R-Mo., vowed last summer to pardon the couple if convicted.
McCloskey faces a primary challenge from former Missouri Gov. Eric Greitens, who resigned in 2018 amid a sex scandal, as well as current Missouri Attorney General Eric Schmitt. If McCloskey wins, he will be Missouri's second Senator alongside Sen. Josh Hawley, R-Mo.